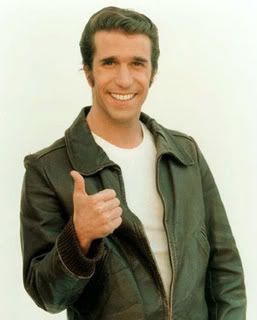 A few days ago JSOnline posted a
story
about the group Visit Milwaukee raising money to put a statue of
the Fonz
from TV's "Happy Days" in downtown Milwaukee. They've already got $45,000 out of the total $85,000.
Interviewed for the article, Henry Winkler (the actor who portrayed Fonzie) thinks the statue is "bizarre" but he is also "so OK with it." He even said he'd come to town for the dedication ceremony. I don't know about you guys, but I won't be missing this for the world.
Viacom owns the rights to the Fonz's character, and they've said the project can go ahead. Some people in Milwaukee are less than pleased, believing television shows based here aren't what Milwaukee should be promoting. But I think it's pretty sweet. It'll be life-sized and probably bronze. I have my doubts about how much extra tourism this statue will actually bring to our city. It's a cool idea, though. Why should just famous figures in history have statues around town? Media is a part of our collective history, too.
I wonder what the statue will look like exactly. Do you think we'll be able to sit on it?